How to choose the right yoga leggings?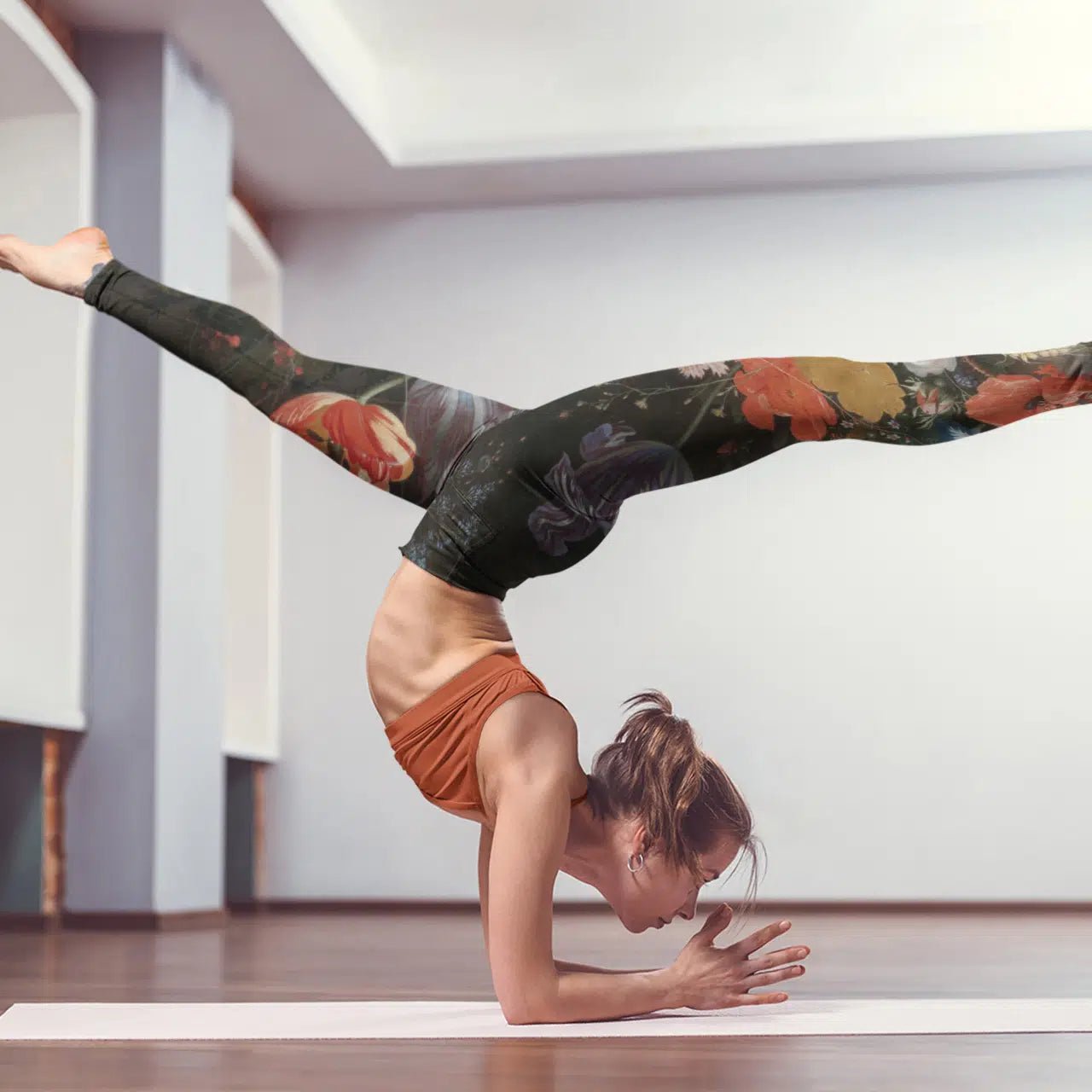 The most important thing when finding the right yoga leggings, is their comfort. During a workout, you don't want to have to worry about your clothes. And if you do yoga, you don't want your leggings to fall off halfway through your yoga session and you have to pull them up, or have to worry about your leggings becoming see-through.
1. When choosing the right yoga leggings, it is important to think about what you want to use them for. For example, if you are looking for leggings for an intensive Vinyasa class, it is important that the leggings stay in place and do not sag. Do you want to use the leggings for Hot Yoga or Yin Yoga, then a softer, sweat-wicking and comfortable fabric is precisely what is important.
What makes the Relax yoga leggings so special?
Our unique prints, perfect fit combined with super soft fabrics makes our leggings the perfect base for any workout. But what makes leggings so great for yoga? And how do you choose the right yoga leggings for your body? In our research on the best leggings, we compared all the features. We took this knowledge to create the most unique, and perfect yoga leggings.
2. When choosing the right yoga leggings, also consider your own body type. For example, if you have long legs, leggings with a higher waist can optically shorten the legs. If you are a bit fuller, then black leggings can be more slimming. The most important thing is to choose leggings you feel comfortable and confident in.
Does the fabric also wick away moisture?
Our leggings are made of a blend of polyester and spandes (lycra). This is a breathable and quick-drying 4-way stretch fabric, so you can always move carefree and freely, even during great exertion. Our fabric is not absorbent. Instead, it pushes moisture out, allowing moisture to evaporate easily, keeping you feeling cool and dry. Our yoga leggings are perfect for anyone doing yoga but are of course suitable for other sports like pilates, fitness and running. We also have a nice blog written about various fabrics, and which ones are best for yoga clothing.
About the models and designs
At Relax, we offer a diverse selection of models and designs that perfectly suit your personal style and the right form of yoga. Whether you are looking for a calm or lively look, we have something for everyone. Here are some of our models and designs to choose from:
High Waist Yoga Leggings:

 

Our high waist yoga leggings are designed with a waistband that covers the navel, providing extra coverage and support. These leggings give you a flattering fit and accentuate your figure, while allowing you to move freely during your yoga practice.
Capris: If you prefer shorter lengths, we also offer capri leggings. These leggings reach to just below the knee and are perfect for warmer conditions or for those who like to show more skin during their yoga classes. They offer the same benefits and stylish designs as our high waist yoga leggings.
Shorts: For yoga lovers who prefer even more freedom of movement, we also have yoga shorts. These shorts offer a comfortable fit and allow you to move through your yoga flows effortlessly and without restrictions. Enjoy the feeling of freedom during your practice with our stylish yoga shorts.
Traditional Japanese Designs: We have a collection of leggings with traditional Japanese designs. Think beautiful prints inspired by Japanese culture, such as kimono patterns, cherry blossoms and waves. These designs exude elegance and timeless beauty, giving you a unique and stylish look during your yoga sessions.
Old Prints from Museums: Our leggings also include designs with old prints, such as artworks from famous museums like the Rijksmuseum. These leggings are true works of art in themselves and bring a sense of history and cultural heritage to your yoga practice.
Abstract and floral patterns: If you are looking for more contemporary designs, we also offer abstract patterns and floral motifs. These leggings are vibrant and colourful, adding energy and vitality to your yoga style.
What all our handmade printed yoga leggings have in common is that they are stylish and allow you to express your personality during your yoga class. Whether you choose traditional Japanese designs, old prints from museums, abstract patterns or floral motifs, you will always look stylish and feel confident in our unique leggings.
Make a statement in yoga class with our high-quality, handmade printed yoga leggings that not only give you comfort and freedom of movement, but also let you shine with every pose you strike.
Size matters
What is your size? Not everyone is the same, which is why we offer the full size range of each model. And since we produce exclusively on demand, all sizes are always available. Our yoga leggings come in sizes XS to XL. Five different sizes combined with our super 4 way stretch fabric make them comfortable for everyone.
Also check out our handy size chartIt contains everything you need to choose the right size. All you have to do is measure which size fits you best. And if you did buy the wrong size. No problem, you can exchange or get your money back within 14 days. Very relaxed.
Yoga leggings versus yoga pants, what's the difference?
Yoga trousers
Traditional yoga pants have a wide or flared leg and a band around the waist (often a girth band) for support. They are comfortable but are not perfectly tight to the skin, making movement a little more difficult. More often than not, they are used for lounging or shopping rather than doing yoga.
Yoga leggings
Yoga leggings are -if you buy a good one- tin-tight tight trousers that have no excess material to get in the way of even the most complex yoga moves. They have an elasticated higher waist and are extremely stretchy - perfect for stretching and stretching comfortably and easily in various yoga poses. A good yoga legging feels like a second skin.
Are you ready to choose?
When looking for the best yoga leggings for yoga, it is important to choose comfort and quality. Leggings with as few seams as possible are a good choice here. Also, don't forget to look for the right size and fabric so that you can move freely and comfortably during your yoga practice. Ultimately, the best yoga leggings for yoga is one that fits you perfectly and helps you relax deeper and enjoy your practice. So invest in a good yoga legging and turn your yoga practice into a true zen experience!
Also fun to read:
What is the best yoga leggings for Hot Yoga or Bikram?
What is the best yoga leggings for Yin Yoga?