Discover the Ultimate Women's Gym Leggings Collection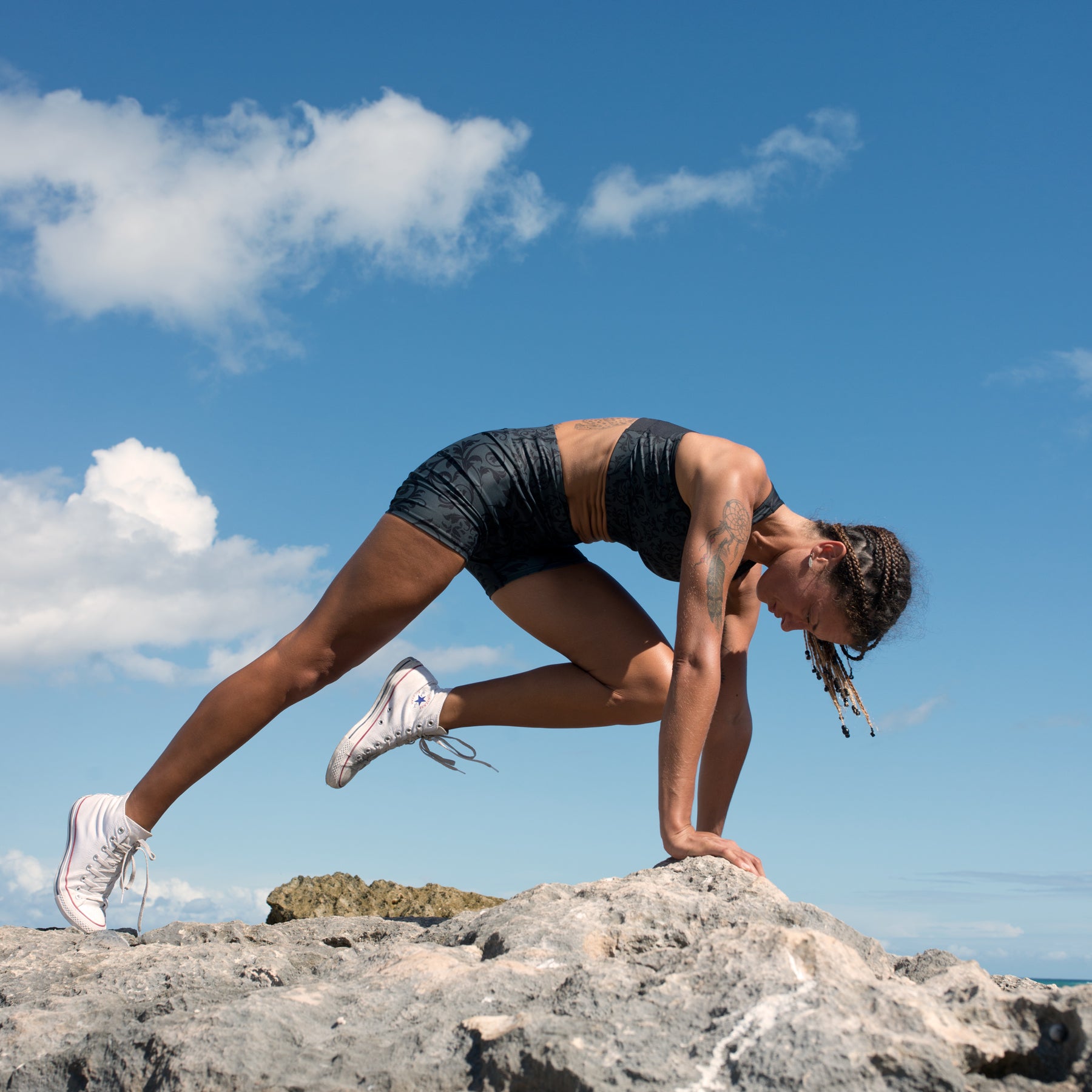 Exercising in style has become the norm, and that's why gym leggings for women are the perfect choice for any active woman. At Relax.nl, we understand the importance of comfort, performance, and looking good. That's why we offer a wide range of gym leggings with unique designs, so you can stand out not only at the gym but also on the street. In this article, we'll dive deeper into "gym leggings" in general, and we'll also tell you about the models we carry and what they're good for.
What's the difference between leggings and gym leggings?
The terms "gym leggings" and "tights" are often used interchangeably, but there are subtle differences between the two. Leggings are usually designed for casual wear and come in various materials, patterns, and styles. On the other hand, gym leggings are specifically tailored for physical activities. They typically have moisture-wicking fabric, compression technology, and a more athletic fit. However, both options can be versatile and comfortable, so the choice between them ultimately depends on what you want to do and your personal style.
Which brand has the best gym leggings?
As the owner of this women's leggings online shop, I've had the opportunity to explore different brands and their offerings. The "best" gym leggings can vary depending on personal preferences, body type, and intended use. Some reputable brands consistently receive high ratings for their sport leggings, such as Lululemon, Nike, Adidas, and Gymshark. However, it's essential to consider factors like fabric, design, and price point when determining which brand best suits your needs. In our collection, we offer a carefully curated selection of unique leggings that cater to various tastes and styles.
How tight should gym leggings actually be?
When it comes to gym leggings, the fit is a crucial factor to consider. Gym leggings are designed to provide a snug and supportive fit. They should feel like a second skin, allowing you to move freely during your workouts without any distractions. However, they should not be so tight that they restrict your movement or cause discomfort. Look for leggings with a good balance between stretch and compression to ensure they stay in place during your active efforts.
Is it better to go a size up or down with leggings?
Finding the right size for leggings is essential for comfort and performance. Generally, it's better to go a size down with leggings, especially if they are made of stretchy and compressive materials. A smaller size provides a tight fit that stays in place during workouts and offers ample support. However, it's important not to go too small, as this can cause discomfort and limited mobility. Always consult the brand's size chart to make an informed decision. Additionally, keep in mind that sizing may vary between brands, so it's a good idea to check customer reviews and our size chart for specific recommendations for the leggings we offer.
Unique Designs for Fashionable Athletes
At Relax, we strive to offer more than just functionality. Our yoga and gym leggings are designed with attention to detail and fashion, so you can stand out during your training sessions. Here are some features that set our leggings apart:
High-Quality Materials: Our leggings are made from premium materials that ensure an optimal fit, support, and comfort, regardless of your activity. They are breathable and moisture-wicking, keeping you cool and dry even during the most intense workouts.
Unique Prints and Patterns: From bold geometric prints to elegant floral designs, our leggings come in various patterns and colors to match every personal style. You can pair them with your favorite sports top or even a casual outfit for a trendy look.
Durability: Relax leggings are designed to last a long time, even with regular use and washing. We make our leggings by hand, using high-quality fabrics, so they don't fade quickly or lose their shape, giving you value for your money.
1. Everyday Leggings: Fashion Meets Function
Meet our Everyday Leggings, the ideal fusion of style and functionality. These high-waisted leggings come with dual side pockets, perfectly sized for your phone. Crafted from a balanced blend of elastane and polyester, these leggings are designed for medium to heavy workouts. They're available in a spectrum of prints and hues, making them the versatile workout partner you've been searching for.
2. High Rise Leggings: Elevate Your Yoga Game
Designed especially for yoga enthusiasts, our High Rise Leggings offer unmatched core support. Their high waist design ensures they shine during yoga poses, but they're equally suitable for pilates, running, or lighter workouts. These leggings are exquisitely flattering, versatile, and infused with stretch, making them a must-have addition to any fitness ensemble.
3. Regular Leggings: Perfect for Every Occasion
Our premier Regular Leggings are specially crafted for lighter workouts and runs, providing steadfast comfort and support. While they excel during jogs and less intense sessions, they're also a perfect fit for yoga and pilates. These leggings combine impeccable fit with versatility, making them an essential piece for any active lifestyle.
4. Shorts: Unleash Your Inner Athlete
Discover our versatile Shorts, perfect for yoga, fitness, and running. These shorts feature a body-flattering fit and a high waistband, ensuring they're not just eye-catching but also feel like a second skin. Crafted from luxurious soft microfiber, you'll experience supreme comfort even during the most challenging workouts. Elevate both your performance and style with these shorts today!
Frequently Asked Questions (FAQs)
1. Are your leggings suitable for intense workouts?
Absolutely! Our leggings, including the Everyday and High Rise options, are designed for medium to heavy workouts, providing excellent support and comfort.
2. Can I wear the Regular Leggings for yoga or pilates?
Of course! Our Regular Leggings are versatile and perfect for yoga, pilates, and lighter workouts. Their impeccable fit ensures they cater to various activities.
3. Do you offer gym leggings with a high waistband for core support?
Yes, our High Rise Leggings are specifically designed to offer unparalleled core support, making them ideal for yoga and other activities that require stability.
4. How do I choose the right size for my leggings?
We offer a wide range of sizes to ensure everyone finds the perfect fit. You can refer to our size chart for guidance or reach out to our customer support for personalized assistance.
5. Can I mix and match the leggings with other activewear?
Absolutely! Our leggings are designed to complement various activewear styles. Feel free to mix and match to create your unique workout ensemble.
With Relax.nl's diverse leggings collection, you can effortlessly combine style, comfort, and functionality in your fitness routine. Explore our range by clicking on the links above and discover the perfect fit for your active lifestyle.
Are your favorite leggings losing their luster? Keeping your leggings in tip-top shape is easier than you might think! In our blog, we'll share expert tips on how to wash and care for your leggings to ensure they stay looking and feeling fabulous, wash after wash.